Donate & Volunteer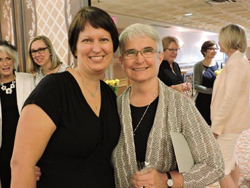 Jocelyn House Hospice's ability to realize its mission and vision of care is actively supported through the fundraising efforts of the Jocelyn Hutton Foundation and the many volunteer efforts that support our cause.
Our volunteers, donors and partners are family and friends of residents, business owners and philanthropists in our community. They are passionate about helping people make the most of their last days. They are people who believe in hospice. They are people who are making a difference. They are people like you.
If you would like learn more how you can make a difference by making a donation or volunteering to help, we would welcome your kindness.
If you want to learn more about how donations can be made through the Jocelyn Hutton Foundation, click here.
If you want to learn more about the variety of volunteer opportunities available, click here.