Providing Care
Life at Jocelyn House

Admission
People who have an advanced, life-limiting illness can request to become residents of Jocelyn House, whether they are now living at home or in a hospital. All applications are coordinated through the Winnipeg Regional Health Authority's (WRHA) Palliative Care Program and people must be registered with this program to be considered. Residents must be aware of their medical condition and must be able to move safely with the assistance of one person.
Orientation
Each new resident is welcomed and shown to their room. Once settled, staff take the time to walk residents and their family members around the hospice and explain some of the details of life at Jocelyn House. The Nurse meets with the resident to discuss and assess their health and care needs, and the staff assist the resident to arrange personal belongings to make the room feel like home.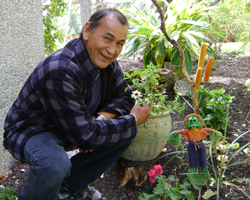 Medical & Nursing Care
Jocelyn House staff work closely together to provide the best possible care for residents.
Our Team Consists Of:
Certified Licensed Practical Nurses and Health Care Workers, who provide for residents' needs 24/7;
Nurse Manager (RN), who is on site from Monday to Friday;
Physician, trained in family medicine/palliative care, visit the residents weekly for medical assessment. WRHA Palliative Care physicians are available on an on-call basis 24/7;
Volunteers, who complement the staff and enhance the quality of life of residents.
Fees
The cost of care is $30.00 per day and is payable to Jocelyn House on the first day of admission and on the first of each month. This includes nursing care, on site food preparation, laundry, telephone (except long distance charges) and cable. Medication costs are covered with very few exceptions by the Manitoba Health Pharmacy Drug Access Program. Residents are responsible to arrange for a companion, if needed, and to pay for any transportation costs incurred for appointments and/or hospital visits. This includes costs for taxi, stretcher and ambulance service.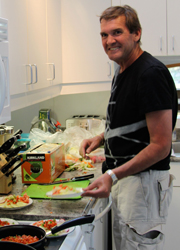 Feels Like Home
At Jocelyn House, we are proud to offer a home-like environment that allows for friendship and support, balanced with the need for privacy. Each resident has their own room with a dresser, television and telephone. Residents are encouraged to bring small items from home, such as photographs or art to make their room "home". Residents can share meals in the dining room or eat in their room. Friends or family who wish to stay for a meal are welcome. There is a reasonable cost for guest meals.
What To Bring to Jocelyn House?
Comfortable, easy to launder clothing
Pyjamas, nightgown, robe, slippers and shoes.
Hearing aid/container and batteries, wheelchair or special walking aid-devices that you require.
Pillows
Personal care items

Toiletries (toothpaste/toothbrush, shampoo, conditioner, mouthwash
Soap/shower gel, lotions, deodorant, lip balm
Nail clipper, file, nail polish,
Brush, comb, razor, shaving lotion
Denture cup, facial tissue
Visiting Hours
We realize that time is precious for our residents and their loved ones, so we have extended visiting hours. However, as our residents do need rest, visitors, other than those keeping a last vigil, are requested to leave by 10:00 pm when the lights are dimmed.
Additional Questions?
For further information on our admission process, eligibility criteria or to arrange a tour, please call 255-1781 extension 225.