News & Events
CTV Morning Live - videos
Join CTV's Mason DePatie as he learns about Jocelyn House Hospice
(September 13, 2022).
Winnipeg Free Press Article - 'A sense of belonging'
An article by Simon Fuller was published on Sept. 28, 2021, by the Winnipeg Free Press.
Click on the following image to read the article.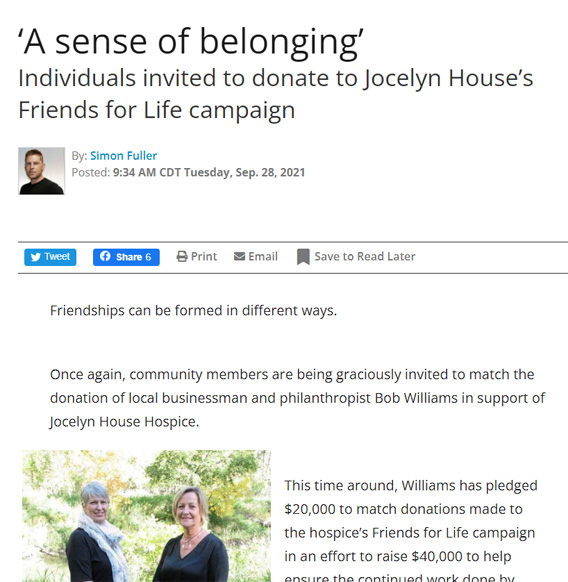 Behind Closed Doors - Saturday, November 17, 2018
| | |
| --- | --- |
| | Thank you to St. Vital Centre for their ongoing support through their Behind Closed Doors Charity Event. The evening was a great opportunity to raise money and connect with people in our local community. Our staff and volunteers met so many people with connections to Jocelyn House Hospice, Jocelyn Hutton and her family. |
6th Annual Band Together, in support of Jocelyn House Hospice Concert
On October 10, in Celebration of World Hospice Day, local artists generously donated their time and talent to support Jocelyn House Hospice. It was a great evening of entertainment featuring the Amadians, Big City Filter, Casati, Curtis Newton, Dan Deeds, Double the Trouble and Garrett Neiles. The crowd was brought to their feet as they enjoyed some of their favourite songs from the Silver Screen.
Thank you to our generous sponsors Wow! Hospitality Concepts, Shape Industries Inc., Never Alone Foundation, Kim McCartney - Richardson GMP, Terracon Development Ltd., Wellington-Altus Private Wealth Inc., Cambrian Credit Union, 99.9 BOB FM, Winnipeg's Classic 107, POP Entertainment, Guppy Design and Print Shop by Vantage for their support of this fun event!
3rd Annual Friends for Life Luncheon
On June 14 women gathered in friendship, at the Fort Garry Hotel, to support the quality end of life care provided at Jocelyn House Hospice. They enjoyed delicious food, great company and heard a heartwarming story of the power of friendship in different stages of life. One lucky winner went home with a $5000 raffle basket filled with prizes perfect to share with her friends.
Thank you to:
Event Sponsor:
Media Sponsor:
Energy 106/Hot 100.5 and Emcee Kirby
Table Sponsors:
The Fort Garry Hotel
Fast Trippier Law – Tracy McMahon
Terracon Development Ltd.
Payworks
St. Vital Centre
and Petals West and Freeman Audio Visual for their support.
9th Annual Sunday Supper
Our 9th annual Sunday Supper, held at The Gates on Roblin on April 22, was once again a great success thanks to the generous and ongoing support of our sponsors and donors. Guests had a glimpse into life at the hospice through the eyes of guest speaker and volunteer Shelley McFeetors. Everyone generously supported the exciting auctions to raise much needed funds for Jocelyn House Hospice.
Thank you to:
Presenting Sponsor:
Event Sponsor:
Wine Sponsor:
Table Sponsors:
Kim McCartney Richardson GMP
BDO
Black & McDonald Limited
Payworks
S.R. Technical Services
Yarrow Sash & Door
and Asphaltec, Banville & Jones Wine Co., Bee Clean, Brad's Window Cleaning, Mary Donahue, Fusion, Glenwood Draperies, Christian LaRiviere, Maple Leaf Construction, Master Roofing, Minerva Painting, Network Adjusters, Gilles Paquette, Hart Pollack, The Gates on Roblin, Top Hat Florists, True North Sports & Entertainment, Wescan Electrical and Wow! Hospitality for their generous support!
Facebook